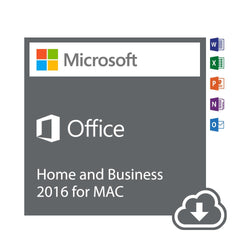 Microsoft Office 2016 Home & Business for MAC

🔘 Download immesiately after purchase

🔘 One Time payment-life Time Licence

🔘 Genuine Retail Software Guaranteed

🔘 Dedicated After Sales Support Team
OFFICE 2016 HOME AND BUSINESS FOR MAC
With Office 2016 Home and Business, you will receive the key tools to keep you organised and productive through your business. In this business package, you will receive Word, Excel, Powerpoint, OneNote and Outlook Microsofts email service. All apps are frequently updated so you will always be up to date with the latest features. 
This Package is for Mac only.
Please ensure you have macOS version of 10.13 or later.
Take your writing to the next level with Microsoft Word. Microsoft Word, a word processor is a perfect tool for bloggers, writers, students or journalists working on professional documents. Use custom templates and added features to take your writing that one step further. 


Microsoft Excel is a spreadsheet program. Create professional spreadsheets for financial reports using custom-built templates or create your own using modern formulas and calculations.
Create, neat presentations with Microsoft PowerPoint to make you stand out from the rest. Use animations and pre-made templates to improve your presentations. Perfect for students and business owners.
Outlook is Microsoft's easy to use email service. The desktop application offers more in-depth features than the online outlook service. The perfect tool for all your email needs.
OneNote is best used in a collaborative environment. Insert individual notes, images or other content found on the internet and share with colleagues or family whilst storing it all in one safe, easy to access location.